THE BEGINNING:
All are just in matter of time and minds. It took more than thousands of years to conquer from land to travel in sky. But it took just a span of 50 years to conquer space from sky.
From carrying

satellites in bullocks to carrying humans to space ISRO

reached a marvellous height in a very short span.
The

first launch

of sounding rocket was done from

Thumba, Thiruvanandapuram, kerala (1963)

which marked the beginning of Indian space programme.
India grew in the field of space by launching many satellites to space by rockets with the guidance of great minds like

Vikram Sarabhai, A.P.J. Abdul Kalam etc.
During 1970's ISRO started developing their first launchimg vehicle

( SLV).

Its first experimental flight was a failure in august 1979.

The first successful launch took place on 18 July 1980.

It was

a four-stage solid propellant rocket.

last & fourth usage of SLV took place in 17 April 1983.
ISRO developed two other rockets named

Polar Satellite Launching vehicle (PSLV) and Geosynchronous Satellite Launch Vehicle (GSLV).
PSLV (POLAR SATELLITE LAUNCHING VEHICLE) :
PSLV was used to launch satellites in polar orbit.

It is a four-stage rocket.

It has gained a credence due to its numerous multi-satellite deployment campaigns with auxiliary payloads. It can carry

payloads of 1750kg into polar orbit of 600km altitude

. Its notable contributions include

India's first lunar probe Chandrayaan-1 and Mars orbiter mission (Mangalyaan).
GSLV ( GEOSTATIONARY SATELLITE LAUNCHING VEHICLE):
GSLV was used to launch satellites in geostationary orbits .

It is a three-stage rocket.

Its major contribution was from 2001. It is a heavy load carrying rocket. It can carry a

payload of 5000kg into lower earth orbit and 2500kg to Geostationary orbit.
MAJOR ACHIEVEMENTS OF ISRO:
In 2008,

Chandrayaan, country's first unmanned lunar probe

was launched by

ISRO

. With this success, ISRO JOINED with 6 space organisations to achieve this.
Chandrayaan-2 launched from the Satish Dhawan Space Center in Sriharikota, India, aboard a

Geosynchronous Satellite Launch Vehicle (GSLV) rocket on July 22, 2019 and reached lunar orbit on Aug. 19.
ISRO officials lost contact with the Vikram moon lander as the probe was just 1.3 miles (2.1 kilometers) above the lunar surface. Despite the apparent crash-landing of the lander,

ISRO has confirmed that all the instruments on board the orbiter are working well. The current orbiter carries eight different instruments
In 2012,

ISRO successfully launched the 100th space mission

using

PSLV-C21 rocket

and placed two satellite into the orbit of earth.
IN 2013, it turned out to be a year of highest achievement for ISRO with the

successful launch

of the

MARS ORBITER MISSION called MANGALYAAN using PSLV-XL.
IN 2016 the

successful testing of Reusable Launch Vehicle,

Technology Demonstrator (RLV-TD) called as

INDIA'S SPACE SHUTTLE.
On February 15, 2017,

India broke the record of Russia

by successfully launching

104 satellites of seven countries in one mission.
UPCOMING ACHIEVEMENTS:
Indian Venusian Orbiter Mission(Shukrayaan-1 ):
The Indian Venusian orbiter mission is a planned orbiter to

Venus by the Indian Space Research Organisation (ISRO) to study the atmosphere of Venus

. It will be launched some time after 2020.
Shukrayaan-1 is a proposed orbiter to Venus by the Indian Space Research Organisation (ISRO) to study the surface and atmosphere of Venus.
The orbiter, depending on its final configuration, would have a science payload

capability of approximately 100 kilograms (220 lb) with 500 W available power

.
The science payload would have a

mass of 100 kg (220 lb)

and would consist of instruments from India and other countries.
As of December 2019,

16 Indian and 7 international payloads

have been shortlisted. Some of them will be selected.
Mars Orbiter Mission 2 (MOM 2):
Mars Orbiter Mission 2 (MOM 2) also called Mangalyaan 2 is India's second interplanetary mission planned for launch to Mars by the Indian Space Research Organisation (ISRO) in the 2021–2022 time frame.
It will consist of an orbiter, and may include

a lander and a rover.
As per some reports emerged, the mission was to be an orbiter to Mars proposed for 2024.
However, in a recorded interview in October 2019, VSSC director has indicated possibility of inclusion of a lander and rover.
Following the successful insertion of the Mars Orbiter Mission (also called Mangalyaan) into Martian orbit, ISRO announced its intent to launch a second mission to Mars at the Engineers Conclave conference held in Bengaluru on 28 October 2014.
Gaganyaan ("Orbital Vehicle"):
Gaganyaan ("Orbital Vehicle") is an Indian crewed orbital spacecraft (jointly made by ISRO and HAL) intended to be the basis of the Indian Human Spaceflight Programme.
The spacecraft is being designed to

carry three people,

and a planned Defence Research and Development Organisation (DRDO) will provide support for critical human-centric systems and technologies like space grade food, crew healthcare, radiation measurement and protection, parachutes for the safe recovery of the crew module and fire suppression system.
Gaganyaan is a fully autonomous 3.7-tonne (8,200 lb) spacecraft designed to carry a 3-member crew to orbit

and safely return to the Earth after a mission

duration of up to seven days.
Its service module is powered by

two liquid propellant engines.
About 16 minutes after liftoff from the Satish Dhawan Space Centre (SDSC), Sriharikota, the rocket will inject the spacecraft into an orbit 300–400 km (190–250 mi) above Earth.

When ready to land, its service module and solar panels will be disposed off before reentry.
The capsule would return for a parachute splashdown in the Bay of Bengal. Crew module is equipped with two parachutes for redundancy, while one parachute is good enough for safe splashdown. The parachutes would reduce the speed of the crew module from over 216 m/s (710 ft/s) to under 11 m/s (36 ft/s) at splashdown.
ADITYA – L1 First Indian mission to study the Sun

:
The Aditya-1 mission was conceived as a 400kg.
satellite carrying one payload,

the Visible Emission Line Coronagraph (VELC) and was planned to launch in a 800 km low earth orbit.
A Satellite placed in the halo

orbit around the Lagrangian point 1 (L1) of the Sun-Earth system has the major advantage of continuously viewing the Sun without any occultation/ eclipses.
Therefore, the Aditya-1 mission has now been revised to

"Aditya-L1 mission" and will be inserted in a halo orbit around the L1, which is 1.5 million km from the Earth.
The satellite carries additional

six payloads with enhanced science scope and objectives.
Aditya-1 was meant to observe only the solar corona.

The outer layers of the Sun, extending to thousands of km above the disc (photosphere) is termed as the corona.
It has a temperature of more than a million degree Kelvin which is much higher than the solar disc temperature of around 6000K. How the corona gets heated to such high temperatures is still an unanswered question in solar physics.
Chandrayaan-3: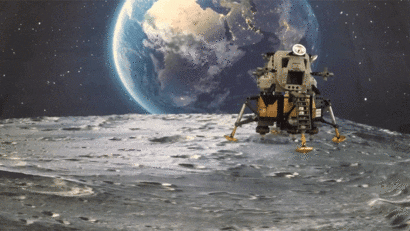 Chandrayaan-3 is a planned

third lunar exploration mission by Indian Space Research Organisation.
Following Chandrayaan-2 where a snag in the communication led to subsequent failure of soft landing attempt after a successful orbital insertion, another lunar mission for demonstrating soft landing was proposed.
Chandrayaan-3 will be mission repeat of Chandrayaan-2 and will only include a lander and a rover similar to that of Chandrayaan-2 and will not have an orbiter.
Realisation within schedule will make

ISRO the world's fourth space agency to conduct soft lunar landing after the administration of former USSR, NASA and CNSA.
~~~~~~~~~~~~~~~~~~~~~~~~~~~~~~~~~~~~~
Thank you. For more such blogs on ISRO , rocket science and Aircrafts, please do follow our page . And also Your Valuable suggestions and comments are welcomed with pleasure 😊. -Regards AEROTECH 4U .
Also do follow the instagram page down below to know lots of unknown facts on aviation.